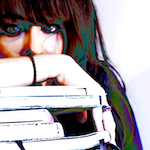 Betty Adamou
Company: Research Through Gaming
Country: UK
Biography:
Betty is a ResearchGame™ designer and the CEO and Founder of Research Through Gaming Ltd – the first and only company solely specialising in using Games for Research and data gathering. Betty has also designed several other games with a social conscience outside of the typical market research realms, where the leading project is PlayingToDrive.com. – 'Gamifying' learning how to drive better.

Betty marries her inventiveness, knowledge, experience and learning's in different research methods, academia, existing and future technologies, the psychological and sociological benefits of gaming with her natural creative flair to create interactive ResearchGames™ – a term coined by Betty herself.

Betty is a frequent conference speaker and writer, sharing her work on Games and Research at countless Market Research events worldwide, inspiring the industry at large to see and use the benefits of gaming in research. Betty has also lectured in design schools as well as Universities in Latin America and has been interviewed frequently by industry magazines, newspapers, online publications and radio stations on her work.
Prior to starting Research Through Gaming, Betty had studied at the University of the Arts in London. As a typical young Londoner, Betty had worked in many jobs at any one time, mixing her creative talents with working to pay the bills. Betty had worked as an artist, selling in two London galleries and created bespoke womenswear selling through word-of-mouth from home and eventually a London boutique. During this time Betty was also working in Market Research, having worked from fieldwork side to account management and software.

Betty's knowledge and skills cover graphic design and animation to storyboarding, game design and development as well as research and analysis.

Research Through Gaming Ltd is unique company which has also developed two home-grown software and data collection systems specifically for Games and data gathering.
RTG are are a mix of game designers, researchers, technologists, software developers, film-makers and more, allowing RTG to cover a range of skills in the development and execution of ResearchGames as well as less traditional forms of data-visualisation.

Betty's vision for Research Through Gaming is that it's games will eventually encompass all forms of data gathering using future technologies where RTG will become an umbrella games-company for a series of large social games which can be used for research.

Betty's white paper 'The Future of Research Through Gaming' can be sent to recipients upon request and a watered down version can be found online.
Title

Watch

Download
Slides

"I'll Facebook u yeah?" Modern Communication and Evolving with the Times
Research Through Gaming…One day, Maybe
Introduction to Gamification