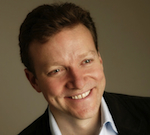 John Kearon
Company: BrainJuicer
Country: UK
Biography:
Chief Juicer and Founder of BrainJuicer Group PLC now regarded as one of the leading innovators in the international market research industry. John's role in conceiving, inventing and leading BrainJuicer made him Ernst & Young's 'Emerging Entrepreneur of the Year' in 2005. BrainJuicer has been twice winner of the ESOMAR award for best Methodology in 2005 and 2007, and John was recently awarded the Advertising Research Foundation's Gold Award for Great Mind/Research Innovator of 2008.

Prior to founding BrainJuicer in 1999, and successfully listing it on the London AIM (Alternative Investment Market) in 2006, John founded innovation agency, Brand Genetics Ltd which invented new products and services for large blue-chip companies. Before starting his first business, John had been Planning Director of one of Publicis' UK advertising agencies. John started his career over 20 years ago as a graduate of Unilever's management programme rising to be a senior marketer at Elida Gibbs before moving into advertising.

John's recipe for entrepreneurial success is; creativity, resilience, determination, perseverance, stamina, drive, imagination, resourcefulness, courage, self-belief, commitment, ability to go without sleep and a touch of madness.
Title

Watch

Download
Slides

Let's Get Emotional About Advertising; Evidence from the frontiers of behavioural economics about how ads really work
DigiViduals™ Research Robots conducting mass ethnography for insight generation
The Need for Faster Marketing Thinking & Slower Use of Flawed Research
Changing Behaviour One Elephant At a Time – Applying Behavioural Science to Brand Building