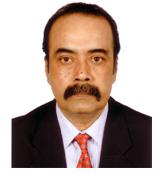 Nasir Khan
Company: Somra-MBL
Country: Bangladesh
Biography:
Nasir Khan, a Bangladeshi researcher, holds a Ph.D. degree in Economics. He began his market research career as an international pricing researcher in early 1980, as a student in Bulgaria. Since 1985, he has been a full time researcher – learning to do it right.
Besides founding his own research company, Somra – MBL Ltd in 1988, he has worked with researchers and research companies from around the world, which gave him the opportunity to learn and share a wide range of research concepts and techniques.
Nasir is a full member of MRS since 1980, member of ESOMAR since 1998, Fellow and Sr. VP (Development) of Bangladesh Marketing & Social Research Society (BMSRS) since its inception in 2010. He is also the winner of "ESOMAR Outstanding Representative in an Emerging Market 2011″ award.
Nasir has authored a number of national and international research publications. He is one of the contributing authors of "Answers to Contemporary Market Research Questions" (ESOMAR). He is also a dedicated mentor of young researchers since 1990 with a view to developing the research industry in Bangladesh.
Nasir is an active blogger on LinkedIn, Twitter, Facebook and G+; frequently participates in various MR discussions on social media, and is a diehard fan of GreenBook and NewMR initiatives.