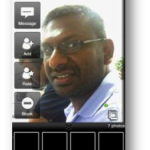 Navin Williams
Company: MobileMeasure
Country: China
Biography:
Navin Williams is the founder and principal at Mobile Measure. Navin has over 14+ years of extensive experience in MR, Technology, Media & Telecommunications sectors.

Starting his career in India, Navin has the distinction of working for some of the world's MR leaders across disciplines of Media, Consumer (IMRB, RI & Nielsen) & Retail (Nielsen). He has held senior roles in four countries, spanning two continents. His last assignment with Nielsen was as Head of Consumer Research (FMCG) in China. Between research stints he was also involved with a pioneering Telecom start-up (Data Access – PCCW) in early 2000s exposing him to the technological possibilities of Mobile MR, and this led him to pursue this approach with RI & Nielsen.

While based out of Kenya & SA, Navin led a pioneering project using PDAs for fieldwork. This project led to substantial savings in travel, stationery & other associated costs, as well as greatly improving data processing & report delivery times. Navin was also part of Nielsen's global multi-country mobile data collection pilot in 2008/09. His quest to drive digital adoption in MR & marketing has led him to his forming MobileMeasure with Fugumobile.

A pioneer in mobile & digital delivery of MR, Navin has successfully worked on SMS, WAP, Online & App-based campaigns for clients, often requiring the seamless integration of multiple components to deliver a solution. Navin has written a number of whitepapers on Mobile MR, and is widely regarded as a thought-leader in the evolution of this technology in research.

Navin holds a MBA from the University of Pune, India. He's based in Shanghai, China with his wife & 2 children.
Title

Watch

Download
Slides

The Mobile/Online Wave and What to Expect
Asia and the Developing World – Smart Enough for Mobile MR
Mobile 3D & Its Application in MR
Mobile Diversity and Mobile MR in Emerging Markets